QuackQuack.in Reviews & Rating
Help Falling In Love with QuackQuack.In- The Best Dating Site Review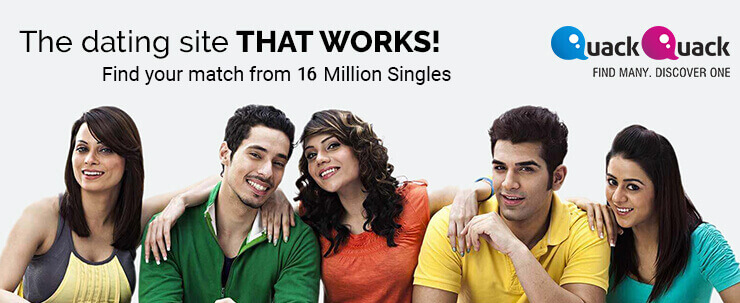 Do you want to find love at the comfort of your house? Do you want to find a life partner online with some authentic dating site that doesn't mislead you? Do you feel solitary in a party without a dating companion? Do you often feel like a third wheel when you go out with a couple best friend pair?
Don't despair anymore. With QuackQuack .in, all your dating troubles are over. With accolade for being the best when it comes to serving the customers to the best of their satisfaction, QuackQuack .in is the ideal dating site, which can completely change the way you think about online dating.
With a knack for gaining positive QuackQuack reviews, the website is known for being the best when it comes to setting you up with a dating partner. With a simple setting up of profile, the best matches are filtered for you to choose from. The best part about QuackQuack is its user-friendly android application and free registration. The application is not only to date, but can also be used for flirting or simply chatting with someone.
Features: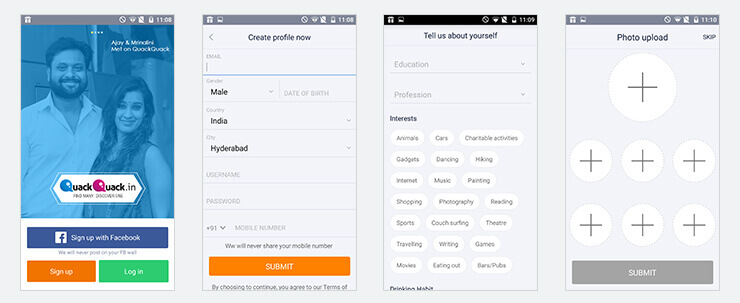 With a database of over 17 million registered users, you can search for singles from every part of India. As soon as you register and make your profile, the app narrows down the search results for you. The like-minded people are matched together by the search engine itself, without letting the user go through the hassle of finding singles. You can set up your locality preference and the search engine will customize it for you.
If you are one of those shy people who don't know how to ask a girl/guy out, there is an additional feature of 'waves' that helps you out with the one-liners. These can be sent in a single click. You can also view who likes you and like the profile of the interested candidates.
Profile Building: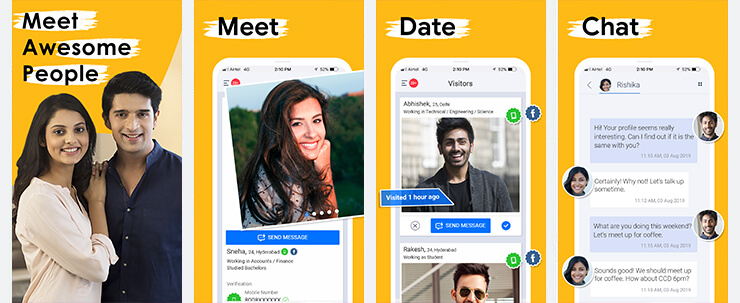 The basic essence is to be true about yourself. Write about your profession, the reason why you want to date, who you are as a person, your hobbies, etc. The search engine suggests your profiles to other singles so you have to take care that your profile is well written. You just need to be honest and have the ability to communicate well.
The frauds are taken care of since the site moderators make sure that you don't fall prey to shady people. All the profiles are verified by authenticating the details with a Facebook profile or by using mobile number. You can report any suspicious profile and the moderators will look into the matter.
QuackQuack .in isn't a casual dating app used for fun. The users here are genuine and are looking for love. The information and pictures that you upload with us are safe. We moderate the content to make sure that you don't have to see all the unfiltered content like in the case of other unsafe dating apps.
Steps to Follow:
The steps are really simple. Just create a good profile, and upload your photos to search for thousands of singles within your own city. Based on the profiles, you can see which candidate shares interests like you. You can even check out the age and more details.
When you find someone that you think is the most appropriate candidate for you, you can simply click the button to show that you are interested. If they like you too, the match is made. When you get matched, you can simply go ahead and use the QuackQuack to chat with each other to know more.
After the simple conversation, you can also move ahead and fix up a date in real life. Meet that person in real and set your tuning. If things don't work out, you can again repeat the process until you find someone you can be happy with.
About Subscription:
QuackQuack is free of cost to register and use basic features.
For the people who want to find someone in their life to go out with, they can simply opt for the paid subscription offer. With paid subscriptions, you can find a match instantly.
QuackQuack.in Reviews:
QuackQuack offers you the access to honest QuackQuack .in reviews written by the users. QuackQuack .in reviews are the way through which the site connects with its users and solves any problems. You can easily write a QuackQuack .in review for sharing your experience with others.
This way, a larger community is brought together as a whole, which in turn, helps in improving the platform. The opinion and feedback from the users is taken seriously and is worked upon.
So don't miss the golden opportunity. Register yourself today on QuackQuack .in for the best dating experience. Go ahead and fall in love. Life is simply too short to be spent alone.